Sam Sears - Pastor
Sam came to The Fountain (then called First Christian Church) in September of 2018, having served as a full-time missionary and apologist, assistant pastor and youth pastor in previous ministries. He has an M. A. in Apologetics from Luther Rice University and over 15 years of practical experience. He admits to being a nerd and enjoying superhero movies, but most importantly, He is thankful for Jesus and has a passion for sharing about Him. He has a lovely wife, Heather, an Occupational Therapist; their son, Avery Joe is a little artist in the making; and their little girl, Leliana, is obsessed with the color pink. Their cat, Maxi, who has journeyed with Sam and Heather all around the country, rounds out the family.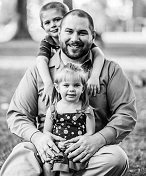 Carrie Guy - Youth Pastor
Carrie has been our Youth Pastor since 2003. She moved here from Westminster, Colorado, where she worked for Doulos Ministries, an organization that works with troubled teens. Carrie is a graduate of Texas Christian University, with a degree in Communication, and oversees all Junior High and High School programs. She is married and has four children.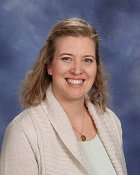 Heather Ritter - Children's Minister
Heather oversees our AWANA program, while also working in both Sunday School and "Jesus Street," our version of Children's Church.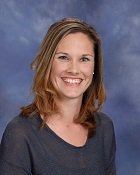 Chuck Romer - Music Minister
Chuck became the Music Minister at the Fountain (Then called First Christian Church) in the fall of 2010. A graduate of St. Olaf College (Northfield, MN) and Northwest College (Kirkland, WA), he has a degree in music theory and composition, and he has published a variety of vocal solos, choral and instrumental arrangements. He met his wife, Donna, while serving in an international music/missions organization, and they have three children: Brandon, Benjamin and Krista. He also enjoys graphic design, playing the piano and time in the mountains with his family.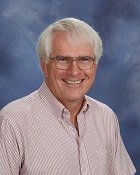 Kevin Guy - Stephen Ministries Leader
Kevin is an essential part of our team. As well as leading Stephen Ministeries, he is also the "go to" cook for men's functions. Along with his daughter, Katie, Kevin is a faithful greeter, welcoming you into the service at our front door every Sunday morning.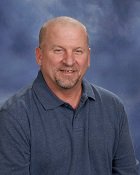 Sheila Ronk - Office Administrator
Sheila has a long history with The Fountain and is usually the person who answers our phones. She does her best to keep Pastor Sam organized, assists with the website, gives grace bags (lunches) to the homeless and performs many other tasks to help keep The Fountain running smoothly.